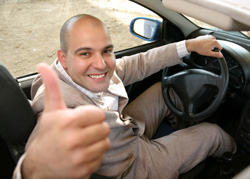 At TexasDriveSafe.com, it is our goal to provide the best possible defensive driving course experience at an affordable price.  We know that getting a ticket can be a costly experience.  That is why our course is available for only $25, which is the lowest price allowed by Texas law.
Section 1001.352 of the Texas Statutes states that course providers "shall charge each student at least $25 for a driving safety course." So it isn't just a slick sales line that we use.  Our course price really is at the lowest price possible.  If you find it for less, then you know it can't be state approved.
---
Money Back Guarantee and No Hidden Fees
We're so confident you'll be satisfied with our course, that we offer a money back guarantee within 7 days from the date of registration. The only way you wouldn't be eligible for the refund within the 7 day window is if you have already successfully completed the course or you were disqualified for identity or course validation.
We also have NO HIDDEN FEES.  Unfortunately, many of our competitors will advertise one price then ask that you pay extra for VIP customer service or standard certificate processing.  We treat each of our customers like VIPs!  The only way you would pay more than $25 for our course is if you choose to upgrade your shipping method to an express / overnight option rather than regular mail.  You can trust us to provide you with everything you need to get that ticket dismissed or discount on your auto insurance.  Get started today!
Texas Defensive Driving Main Page
Course Details
State Approval Information
Mobile Device Information
Course Price
Certificate Information
Ticket Dismissal Information
Insurance Discount Information