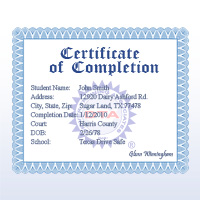 TexasDriveSafe.com is owned and operated by Driver Training Associates, Inc., a proud Texas company.  Unlike some of our competition who reside outside of the State, our Texas defensive driving certificate of completion is sent out of Sugar Land, TX (suburb of Houston) which helps you get your certificate as fast as possible! If you choose the default US mail delivery for your certificate (which is included in the $25 course price) you should receive your certificate in 3-5 business days from the date of course completion.
Express delivery options are also available during the course registration process or post completion if you court deadline is fast approaching. We offer 2 business day, standard overnight, and priority overnight options as upgraded options. Certificates CANNOT be handed out in person by Texas law.
---
Certificate Processing Schedule
Certificates are processed and sent out each business day (Monday – Friday, excluding Holidays) at 3:00 PM (Central Time).  Completions on weekends, holidays, or after 3PM on weekdays, will be processed and sent out on the following business day.
---
Instructions for Ticket Dismissal Certificate
During the course registration you will select your reason for taking the course (Ticket Dismissal, Insurance Discount, or Business or Safety Training). If you select "Ticket Dismissal" as your reason for attending the course, you will receive a two-part certificate. The top portion is the "Court" copy which must be signed and turned in to the court presiding over your ticket before their appointed deadline. The bottom portion is the "Insurance" copy and can be turned into your auto insurance company if they offer defensive driving course discounts. IMPORTANT: Our site does not report your course completion to the court or your insurance company.
---
Instructions for Insurance Certificate
If you select "Insurance Discount" as your reason for attending the course, you will receive a single certificate that can be turned in to your auto insurance company for any applicable discounts. The insurance certificate will NOT be accepted by Texas courts for a ticket.
Many auto insurance companies offer a discount for successfully completing a state approved driving safety course. Unfortunately there are some companies that do not, so we recommend that you verify eligibility prior to registration. While the discount amount can vary, most participating companies offer a 10% auto insurance discount over a 3-year policy period.
Texas Defensive Driving Main Page
Course Details
State Approval Information
Mobile Device Information
Course Price
Certificate Information
Ticket Dismissal Information
Insurance Discount Information