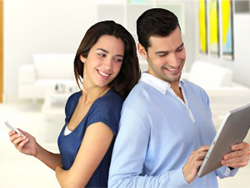 At TexasDriveSafe.com we are committed to offering the most simple to use and convenient course delivery format in the industry.  With that said we are proud to announce that our course is compatible with mobile devices (tablets and smartphones).  Offering this great feature takes our course to a whole new level of flexibility.
For the best course experience on your mobile device, simply go to our website using your default web browser and register or login to the course. Everything within the course will function the same way that it would using a PC or laptop. As long as you have a steady and reliable connection to the Internet, then you can access the course. It is that simple!
Below we have answered some of the more popular questions relating to our course and mobile devices:
---
What if I registered on a PC or laptop, can I then log in from my mobile device?
Yes. It does not matter what device you registered on. Each time you access the course, it will automatically detect the type of device you are using to make sure you have the most user friendly experience. You are free to switch back and forth from mobile to non-mobile devices if necessary without issue, but make sure that you logout of the course prior to switching devices to avoid any session conflicts.
---
Does my mobile device have to be Flash Player enabled?
No. It does not matter whether your mobile device is Adobe Flash Player enabled.   The only part of the course that operates differently when accessing the course from a mobile device is the videos or multimedia.  Our site will detect if you are attempting to access the course from a mobile or non-mobile device and provide the appropriate format of video or multimedia.
---
When you say "mobile friendly" does that include mobile phones?
Yes, however due to its larger screen size, tablets or similar online viewers provide an easier and more comfortable user experience. Taking the course on a mobile phone requires significantly more scrolling which may be considered less than optimal.
---
Is the course Android device compatible?
Yes.  Any mobile device with an Android operating system is compatible with our course.
---
Can I take the course on a Windows Phone or Surface Tablet?
Yes. The user experience will be friendlier on a Surface or tablet when compared to a phone, but you can take the course on either device as long as you have steady access to the Internet.
Our goal is to offer the most flexible and convenient online Texas defensive driving course anywhere, and we think being mobile friendly speaks to that commitment. Register today! You will be glad you did.
Texas Defensive Driving Main Page
Course Details
State Approval Information
Mobile Device Information
Course Price
Certificate Information
Ticket Dismissal Information
Insurance Discount Information