Texas Driver Education Online $149.95
Required for Texas first time drivers*
Entire course is online
FREE driver license practice test
($9.95 value)
Take Your Driver Ed Course Online with Us!
Instead of sitting in a classroom for several days, Texas teens can prepare to become drivers by taking this excellent driver ed course on the Internet.
Texas Drive Safe makes it fast, easy and fun for teens to learn safe driving concepts in the comfort of their own home, or any place that has an Internet connection. Online driver's ed is quickly becoming the preferred way to complete this program that is required for a first driver license in Texas.*
*Required if applicant is under the age of 18.
What the Course Is Like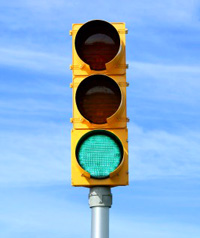 This cutting edge Texas driver ed program combines reading and videos to make the learning experience more enjoyable for teens who are new to driving.
Students can log in and out unlimited times, so the course can be taken during the daytime, at night, or whenever studying is convenient.
Lessons are finished one at a time and the student can go back later and review previously completed material.
The course teaches defensive driving concepts and techniques that will serve as a solid foundation for a lifetime of safe driving.
About the Driver License Practice Test
When you choose Texas Drive Safe for your online Texas driver education program, you will receive a FREE bonus. The 50-question driver license practice test is included in your course fee for driver ed.
The practice exam allows the student to study the types of questions that are found on the Texas driver license test (road rules and road signs). Most students feel more confident about taking this test knowing what kinds of questions they will be asked.

Both the driver education course and the driver license practice test were developed and are hosted by I Drive Safely®.
While the practice test is a great way to prepare for your real driver license exam, you will still need to study the driver's handbook. You can click here to view the Texas driver handbook online.
Texas Driver Education Requirement
Section 521.204(2) of the Texas Statutes states that the department may issue a class C driver's license to an applicant under 18 years of age only if the applicant "has submitted to the department a driver education certificate issued under Section 9A, Texas Driver and Traffic Safety Education Act (Article 4413(29c), Vernon 's Texas Civil Statutes), that states that the person has completed and passed a driver education course approved by the department under Section 521.205 or by the Texas Education Agency."
The driver education course offered on this website has been approved by the Texas Education Agency for this purpose.
Per Texas law, a student must be at least 14 years old in order to take this course.