Ticket Dismissal Course For Texas Speeding Tickets
Did you get a speeding ticket somewhere in Texas recently? Chances are that you have or that you know someone who did.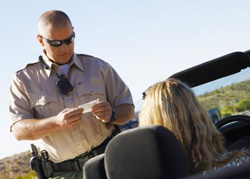 The fact of the matter is that law enforcement agencies have really begun to crack down on speeding and other moving violations recently in Texas, thus more and more speeding tickets are being written. The next question is what to do after receiving a speeding ticket.
Defensive driving is an option that you will probably be given if you have not taken a course within the past 12 months for the purposes of dismissing another ticket. The good news is that if you got your speeding ticket in Texas, and you are eligible or been given permission to take a defensive driving course, you can take a course on the Internet.
Many states have not approved this alternative method, which is much more convenient and flexible as compared to the classroom option offered previously. Why take a defensive driving course on the Internet?
Advantages of Online Defensive Driving
When you get a speeding ticket and you are given the option of taking defensive driving, you have a few options to choose from when taking your course for ticket dismissal. The best option is a 100% online course such as the one offered here through Texasdrivesafe.com.
Gone are the days of spending 6 straight hours sitting in a classroom with stangers on a workday or weekend. With Texasdrivesafe.com, you have the option of accumulating the 6 hour course at your own pace anywhere you have Internet access.
Imagine being able to access the course from home, work, or on the go with a laptop, and take the course at your own pace. If you want to watch 10 minutes or 1 hour at a time, you have that option, and the course will pick up right where you last left it. The course is available 24 hours a day 7 days a week. It is the only way to take defensive driving for those of you that have received a speeding ticket or other defensive driving eligible moving violation.
Why Texasdrivesafe.com?
Texasdrivesafe.com offers a research proven effective online defensive driving course for the purposes of traffic ticket dismissal and insurance discount.
We are proud to offer a course that is streaming video based, unlike many of the text only courses being advertised, at a great price. Sign up today and see what the course is all about, and we're sure you'll be satisfied. We even offer a money back guarantee.
Texasdrivesafe.com is also proud to provide trained customer service professionals who are here to help you with any questions or concerns that you might have. Get started today by clicking on the register button above, and your speeding ticket will be gone before you know it!